Scandinavian design is associated with recognizable features like natural material and light, pale palette of colors, aesthetism, functionality, simplicity of the lines and a warm atmosphere to get through endless winters!
Considering this, it appears that a cold material like concrete doesn't match with such a style. Though the combination can work perfectly! Here is different ways to incorporate concrete in your decor.
Concrete wall
Whether it is a real concrete wall, a faux wall, a concrete plaster or a textured wallpaper, it has the potentiel to make itself inconspicuous while adding a distinctive look to any room. Combined with pastel colors, geometric patterns or natural material, it creates a stunning harmony of contrast.
Source

Source

Source

Source
Concrete furniture
The pure lines of these concrete and metal console and bench are just perfect! They add an industrial touch to this vintage scandinavian design.
This dining table shows that concrete can even be bold and warm. It's definitely the masterpiece of this kitchen.

Source
The sink here makes it really hard to tell if it's traditional or modern. It just perfectly links both, we love it!

Source
This permanent insertion of concrete in this bedroom has been perfectly designed. It's really aesthetic and functional.

Source
Concrete pieces of decor
Concrete doesn't have to be solely grey and cold. These geometric wall decor prove that point. They are molded so finely that they look like origami.
 Source
It's not that obvious but this dala horse is molded in concrete too.
Leo&Bella 
Lamps made of concrete are one of the most affordable way to integrate this trendy material into your interior. These are from our lighting collection.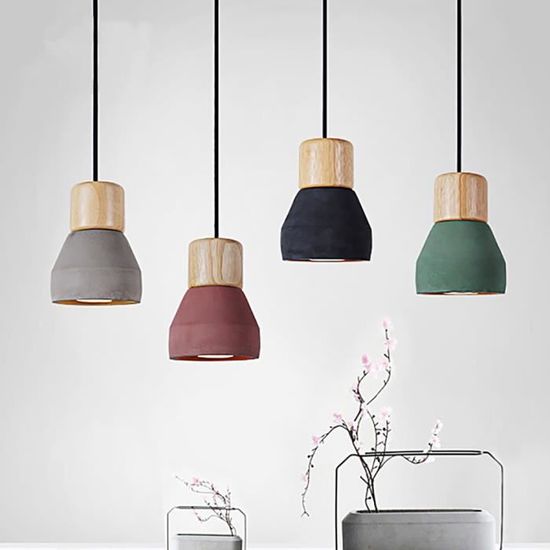 Source
Concrete floors
Whether it is diamond polished or waxed, concrete floor is just amazing. It perfectly highlights a scandinavian interior while being magnificent itself. 

Source

Source
 
Source
 
Digs Digs
Source